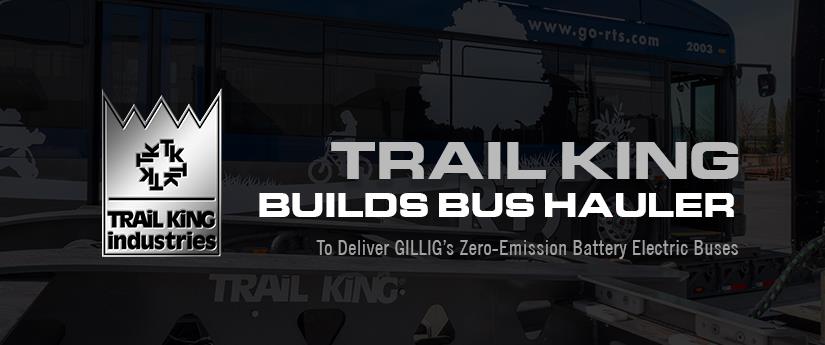 Trail King Builds Custom Bus Hauler for GILLIG Zero-Emission Battery Electric Bus
Trail King continues to build success for our customers, engineering a custom Hydraulic Detachable Gooseneck trailer with ideal features and low ground clearance capabilities. The loading destination of this Bus Hauler TKHDG was Trail King's sister company, GILLIG, headquartered in Livermore, California.
A third-party vendor, Crown Hauling, was welcomed to GILLIG in March, to evaluate transport capabilities for GILLIG's Zero-Emission Battery Electric Bus.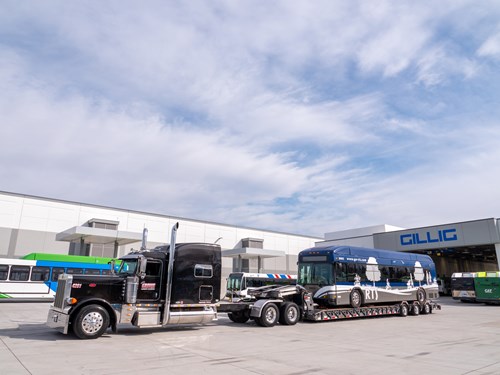 The specifications necessary to deliver these buses, post-production, required a custom touch, and Trail King engineers and team were up for the challenge. Trail King is known for customizing hauling solutions, expertly designing and manufacturing trailers for any payload and destination. The Bus Hauler TKHDG trailer included specifications for lower bolsters, a longer 60" rear platform, and roll-on black non-skid traction material. Aluminum ramps, stored in the gooseneck, can be utilized at the rear or the front of the trailer.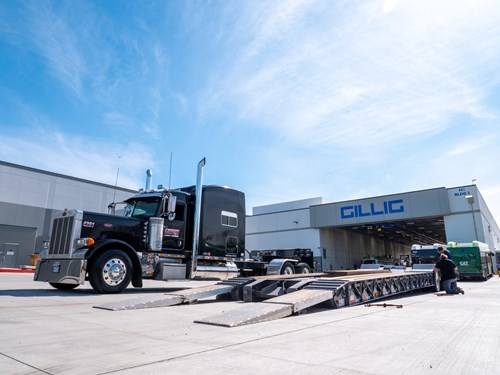 Trail King is the leading North American manufacturer of trailers for the construction, agriculture, transportation, waste & recycling, and specialized hauling industries. Trail King designs, engineers, and manufactures trailers to serve a wide variety of applications for diverse markets. Since 1974, Trail King has built a reputation for quality, reliability, and performance that is unsurpassed. Like other Crown family companies, Trail King operates with strong core values of innovation, integrity and commitment to its customers, valuing its employees above all.
A family-owned American business since 1890, GILLIG has a long history of excellence. GILLIG is the leading manufacturer of heavy-duty transit buses in the United States. From initial design through final assembly, each GILLIG bus is designed and built by dedicated Americans in Livermore, California. GILLIG buses are known for their unmatched quality and have earned their reputation as the lowest cost buses to maintain and operate.
CCI Industries owns both GILLIG (purchased in 2008) and Trail King (purchased in 2010). CCI Industries operates under the umbrella of Henry Crown & Company, the holding company of the Crown family in Chicago.