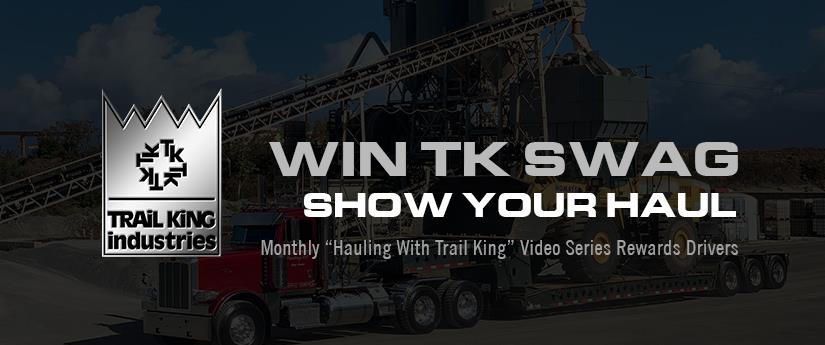 Monthly Video Series Rewards Ambassadors
Trail King Industries kicked off the new year with a rewards program for ambassadors of the brand. 
Utilizing the "Hauling With Trail King" video series platform, Trail King created a new video format, and asked any user with a Youtube account to vote for their favorite photo submission. 
Trail King launched the "Hauling With Trail King" video series in 2019 to showcase customer-submitted photos.  This video series has been especially popular with Trail King employees, as it gives the TK team a chance to see the trailers they worked hard to design, engineer and build, hauling around the world. 
Submit Your Photo
There are two ways to participate in the rewards program: submit or vote! 
Hauling with Trail King trailers? We want your photos! Submit your hauling pics through any of our social media channels. Our team accepts photos through instant message on Facebook and Instagram, or post with #haulingwithtrailking on Twitter, Instagram, Facebook, or LinkedIn. We collect images until the last day of the month, and the video is loaded to our Youtube channel by the 15th of the following month. Be sure to "Follow" our channel, so you don't miss the vid. 
* Photo submission does not guarantee usage. By submitting your photo to Trail King, you are authorizing fair use of the submitted photo to Trail King Industries. Winner is chosen by public vote in the comments on each monthly video.
Go Vote!
Voting is only open for two weeks: from the moment the video is live until the end of the month. Navigate to our Youtube channel, find the most recent "Hauling With Trail King" video on the VIDEOS tab, watch the video, and leave a comment below the video of your favorite/best image. The criteria is all up to you!
Win!
The photo submission with the most votes by the last day of the month wins TK Swag in the form of apparel, drinkware, caps, beanies, and other branded items. 
The driver/customer's photo voted BEST will also be showcased on our social media channels, as well as on trailking.com. The OUR WHY page was chosen for this spotlight because our mission is BUILDING SUCCESS for our customers. What we do and why we do it is all about each and every man and woman hauling with Trail King day in and day out. 
Thanks for playing along, and if you have any questions, please message our team on social, or check out the CONTACT US page.
Previous Best Photo Winner:
Joshua Gomes