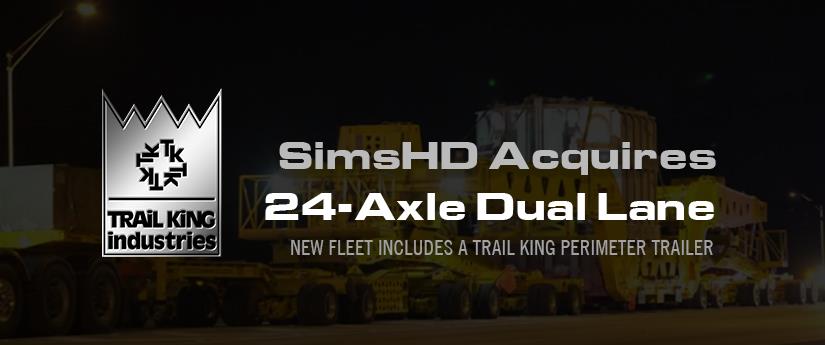 SimsHD Acquires Fleet Including 24-Axle Trailer

SimsHD, Sims Crane & Equipment's spin-off rigging and heavy-duty moving company, recently expanded  its capabilities with the acquisition of a heavy hauling trailer fleet, including a $3 million Trail King 24-axle dual lane trailer.
The company also recently took delivery of a 200,000-pound-capacity perimeter trailer and a 160,000-pound-capacity straight trailer.
"The addition of these high-capacity trailers provides SimsHD greater flexibility in adapting our moving solutions to each specific project," said Dean Sims II, Sims Crane Vice President of Marketing. "For example, the Trail King can expand and distribute its load across one, two or four travel lanes which helps reduce load bearing on bridges, and additional equipment can expand it up to 40 axles. This makes Sims Crane a major player in the super heavy hauling business niche."
As seen in the video, SimsHD's 24-axle Trail King has already been used to transport a 400,000-pound Hyundai power transformer more than 25 miles in West Palm Beach. 
Previously, Sims HD focused on on-site specialized rigging projects. While these projects have moved loads up to 1.2 million pounds, they have mostly been within defined project sites or industrial facilities. The addition of the heavy hauling trailer fleet allows Sims HD to safely and efficiently transport loads over public roadways.
"While our Goldhofer SPMTs can be outfitted for transportation over public roadways, they have limited ability to secure the load. The Trail King can support a load, as in our video, from beneath or reconfigured to suspend a load hanging from the bridge beams," Sims said.
The addition of a heavy hauling trailer fleet is part of SimsHD's long-term business plan, according to Sims.
"It has been our goal from the beginning of SimsHD to provide full-service logistics for highly specialized transportation and placement of industrial equipment," Sims said. "Our concept for SimsHD starting with its launch in 2012 was to diversify Sims Crane and broaden our product and service offerings to our clients."