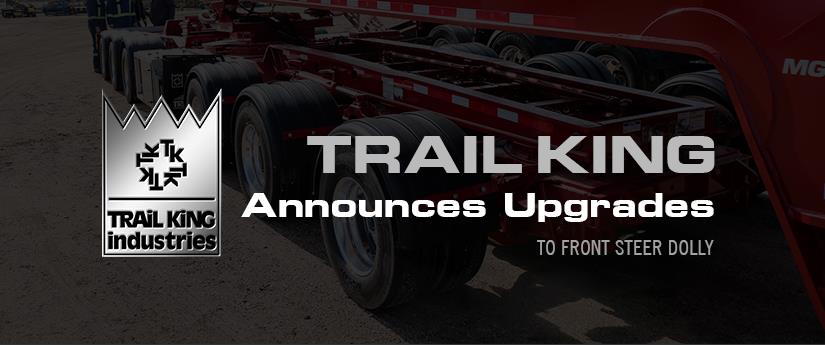 Trail King Updates Steerable Dolly
The new low profile Hydraulic Steerable Dolly has undergone some significant changes and improvements, with one main thing in mind- our customer. Not every road is a straight shot. There are a lot of challenges with big hauls, and we know you've got some hard turns to make.  In addition, if you're hauling heavy, you'll appreciate features that save time and money!
Enter the NEW front steer LPSD-HS from Trail King. It's the same rugged, dependable dolly you've come to rely on, with some upgrades.
With the new front steer dolly, you'll gain 1.7 tons of additional payload. We put the old dolly on a diet and lowered the weight from 28,170 to 24,770 lbs; or as low at 21,100 lbs if ordered without a hatbox. But, don't worry, you didn't lose any muscle.
For better maneuverability, we've also increased our hatbox rotation to a 58 degree angle. Previously, the rotation only provided 23 degrees before hitting the stops. Having this increased degree of rotation makes steering easier because you won't have to worry about hitting the stops and limiting how your turn responds. Our adjustable steering ratios optimize steering for different load lengths!
Increasing the turning angle was all about efficiency. Going from 30 degrees in the old design to 34 degrees in the new design, our engineers have amped up the auto steer, meaning you won't have to stop and override in manual as frequently.
Speaking of going from auto to manual, we've got another big time-saver for you, and you're body will thank us too! In the old model, going back and forth from manual to auto steer wasn't the simplest process. Now, it's all remote. You'll have 40 degrees to work with in manual, and we added an auto-align feature that aligns the steering axles after switching from manual back to auto.
Let's recap. Remote auto to manual steer. Front steer instead of rear. Increased hatbox rotation. Increased turning angle. Additional payload. AND the optional centralized grease port for the turntable allows for easy upkeep and maintenance.
This versatile dolly can be used with a Schnabel setup, it will replace the standard wheel area for a steerable 13-axle configuration, or it can be used in combination with a Jeep/Dolly for Bunk work.
We update and change products, ultimately, to make the process smoother, faster, and safer for our customers' success. Contact a Trail King rep to build your custom hauling solution today- 800-843-3324 or request a quote directly from the product page or through our LIVE CHAT feature.