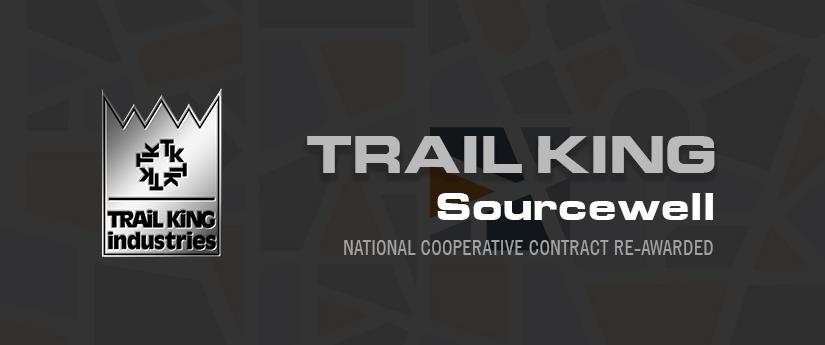 Trail King Re-Awarded Sourcewell Contract
Trail King Industries, a leading North American trailer manufacturer, is pleased to announce it has once again been awarded a national cooperative contract through Sourcewell in the Trailers with Related Equipment, Accessories, and Services category.
Trail King Industries, Inc. was awarded a Sourcewell contract following a rigorous request for proposal process resulting in contracts that meet, or exceed, local procurement requirements.
"The strength of these trailer manufacturers will be proven in our ability to support and connect their unique solutions to those public-agency needs. I look forward to seeing future trailer category growth, and its acceptance and utilization among our contract users," said Sourcewell Senior Category Development Administrator Chelsea Rutz.
As a previous Sourcewell contract holder, Trail King will continue to provide expertise in selecting cost-effective options for each Sourcewell participating agency. Sourcewell users have a purchasing advantage with access to contracted pricing through Trail King as well as a dedicated service staff and a network of dealers across the nation.
"This award allows Trail King to be a part of a select group of world-class suppliers available to all registered Sourcewell users throughout the United States and Canada," says Mike Heschke, Product Specialist. "Customers can save time and money by streamlining the procurement process with cooperative purchasing."
About Trail King Industries, Inc.
Trail King Industries, Inc., headquartered in Mitchell, SD, is the leading North American manufacturer of a complete line of trailers. With trailers ranging in load capacities from 12,000 pounds to 1,000,000 pounds, Trail King designs, engineers, and manufactures trailers to serve a wide variety of applications for markets as diverse as construction, agriculture, transportation, waste and recycling, and specialized hauling. Over the years, Trail King has built a reputation for quality, reliability and performance that is unsurpassed. For more information visit: www.trailking.com.
About Sourcewell
Buy the equipment you want with a process you trust using Sourcewell's cooperative purchasing program. Join 50,000 participating agencies saving time/money with our government process. Purchase from hundreds of contracts through local dealers or representatives to ease procurement and support your community. Sourcewell is government empowering government since 1978. Learn more about Sourcewell and its contract with Trail King Industries, Inc. at www.sourcewell-mn.gov.